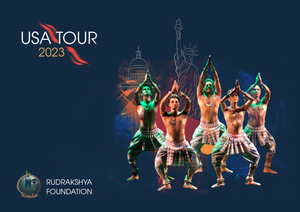 Rudrakshya Foundation
has grown from the seed passionately sown, nurtured and tended to with great care by Guru Shree Bichitrananda Swain. Today, Rudrakshya has emerged as one of the leading dance institutions in a new generation of world-class organizations catering international audiences, while, at the same time, holding firm to the values and traditions established by the founding fathers of Odissi Dance.

Established in the year 2000, Rudrakshya Foundation has been growing steadily, with performances abroad and throughout India, as well as on-going classes and private instruction catering to the continious flow of serious dance students coming from all over the world.
KNOW OUR DANCERS BACKSTAGE...
ODISSI – CAN'T – EXIST WITHOUT DANCERS.
They carry within themselves the technique, knowledge, steps, and understanding to bring countless works of art alive...
In these pages, you can learn about the marvellous dancers who are Rudrakshya Foundation today.
MORE INFO
DIRECTORS STATEMENT
Whatever I have achieved, whatever I am today is only because of the grace and blessings of the Divine Mother, Adya Parashakti Maa Mangala Gauri. She is my only mother and the sole support on my journey. At the young age of nine I lost my own mother, and my father passed away when I was in my fourth year of college. Since then I have been an orphan, surrendering everything to the Universal Mother and taking shelter at her holy feet... 
READ MORE
OUR VISION
To embody the best of the ancient tradition of Odissi Dance, while at the same time breathing new life into the art form through innovative choreography and providing training to develop exceptionally skilled dancers. At Rudrakshya Foundation, rigorous practice sessions are conducted from dusk to dawn in every aspect of the art form. From the theoretical and practical aspects of the dance form, to the cultivation of mind and soul through yoga, meditation, music and Vedic studies, the Foundation strives to fully embrace the roots of India's rich culture and heritage.
OUR MISSION
To dedicate heart and soul to the enhancement of Odissi Dance with special emphasis on developing new and innovative choreography, building upon the foundation reconstructed and developed by our forefathers, with a unique emphasis on developing new work for the "Purush Ang", or male form. We will also focus on arranging and organizing workshops by eminent dance and music Gurus and artistes alike. Special emphasis to be given to the importance of Gurushisya Parampara. Rudrakshya Foundation aims to bring the world together on one platform where caste, creed, religion, gender are forgotten and submerge in a deeper love for art, and a burning desire to make the world a better, more peaceful and harmonious place.
ADMINISTRATOR
Rohita provides the stoic anchor to Rudrakshya Foundation. He is the managing director and administrator of Rudrakshya Foundation. Other than handling all the desk work of Rudrakshya, he is a trained and promising Mrudanga player who started learning at the tender age of 09 in his village under the guidance of Guru Sri Souri Bisoi...
READ MORE
ONLINE-CLASSES
Regular weekly online-classes are held for students of all levels of experience. Students will have the opportunity to receive personalised training from Rudrakshya Foundation Dancers, all of whom have received extensive training in Odissi and have performed widely all over the world. . . 
MORE INFO